Theatre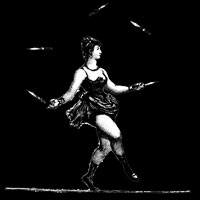 Theatre productions include a commedia version of Molière's 'Medecin Malgre Lui', a punk version of Bulgakov's 'Molière', a bicontinental Caribbean voodoo epic 'Blood' by Fringe First winner Michael Phillip Edwards ("Astonishing!" - Variety), and a crossdressing version of Ben Jonson's 'Epicoene'.
Also produced several children's puppet and theatre shows including 'Asterix and Obelix' at the Barbican.
Produced a series of plays which were turned into multi award-winning short films ('Whacked!', 'Secrets', 'Angel'), and has numerous score and design credits in comedy and music, including Eddie Izzard's live stage show and 'One Word Improv'.

'Crabbit! - the Musical' - based on 'Michelle' series of children's books by Julie Hegarty, premieres August '09 at the Gilded Balloon in Edinburgh, transferring to London for a limited run in October '09.
Film
Film credits include 'Whacked!' directed by Jake West (Sky Movies Max; TCM award, four NYIFF awards LA and NY), 'Secrets' (Film Council), and feature documentary 'Believe'
Current
"Stripped at the Lyric" was released in the UK in the fall of '09.
Her documentary feature 'Believe' premiered in Los Angeles in the fall of '09 and was nominated for an Emmy in 2010.
'Believe' premiered at Cineworld London in November 2010 to critical acclaim and is released by 2Entertain.
She has just completed Eddie Izzard: Live at Madison Square Garden for release on Epix Movie Channel.
Currently in development on a musical film set in the late 80's London standup circuit, scored by Sarah McGuinness and scripted by Tony Thompson.